About Heather
---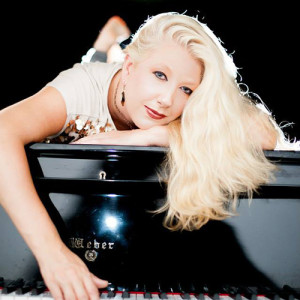 Heather grew up in Atlanta in a musical family, the daughter of a Baptist minister. She joined her mother, sister, and aunt as one of many women in the family who were heavily involved in singing and playing music in some capacity. From an early age, faith and music went hand-in-hand for Heather and she saw how both could create community and joy. Her first opportunity to put this into practice came at age 13 when she began serving as an accompanist at a local Methodist church. The Methodist credo, "open hearts, open minds,open doors" stuck with her and although it came to her as a religious philosophy, she has made it a pillar of her musical philosophy as well. Heather views singing a hymn in church and singing a pop song at a party as two expressions of the same joyful sound. She continued her explorations of faith and music at Union University in Jackson, TN and Clayton State University in Morrow, GA
After three years of college, she was drawn by opportunities to write, record, and perform music full time. She performed in and around Atlanta with numerous cover bands and as a solo act, and sang with touring gospel trio Radical Praise from 1991 to 1998. She also found work doing studio background vocals, voiceover, and piano arrangements, all of which she still does today. She continued her musical education privately, studying with renowned vocal coaches in Los Angeles, Nashville, and Atlanta, including Lisa Popeil and Rhetta Butler.
Years of freelance work gave Heather the confidence and connections she would need to make two big decisions in 2009: to lead her own band and to finish her degree. She returned to college at Point University and earned her bachelor's degree in Christian Ministries with a focus in Biblical Studies, and started the Tin Roof Band. These decisions expanded the scope of her calling to create celebration through music. She developed a roster of Atlanta's best musicians to call upon for Tin Roof Band gigs, depending on what the client and occasion calls for. The group enjoys a word-of-mouth following and has been hired to play everything from weddings to grand openings to gala fundraisers. Heather also began leading seminars for churches and businesses on many topics including team training and worship leading. In 2015, she released her first full-length album of original songs, Grace from Chaos.
Heather remains committed to continuing her education and development as a musician, educator, and minister. She is currently pursuing a master's degree in Christian Ministry and accreditation with the International Voice Teachers of Mix Organization, and studies jazz piano with Atlanta's best, Nick Rosen. Over the course of her life and career, the common thread of music has made her feel at home in all of the communities she has become part of. Whether in church, on the bandstand, or in the classroom, her success has been built on her relationships within those communities, and she treasures each one she has formed over the years.
TEACHING
Heather has twenty years of private and classroom teaching experience and combines it with practical and real-world musical expertise she has gained over her performance career. She helps students of all ages, levels, and styles find their expression, hone their craft, and experience the lifelong gift of music.
PROFESSIONAL AFFILIATIONS
Music Teacher's National Association (MTNA)
Georgia Music Teacher's Association (GMTA)
Voiceworks Associate